LOCAL OUTREACH
VARIOUS WAYS WE SERVE OUR COMMUNITY
COASTLINE 5/10K
Early each year, Coastline hosts 5k/10k run through Gulf Breeze.  This is a huge event that reaches people throughout our community.  Proceeds go to support local education.
CORPORATE SPONSORSHIPS are available!
We also host an awards ceremony and a breakfast to follow the event.
Follow us on facebook to stay informed.

BEACH OUTREACH OPPORTUNITIES
On several occasions during the year, Coastline offers outings and services on Pensacola Beach.  
EASTER SUNRISE SERVICE
Each Easter at 6:30am, we host a sunrise service at Gulf Pavilion.  We provide a light breakfast, coffee, worship music, Easter message and a beach baptism.
SUMMER BEACH BAPTISMS
Throughout the summer, Coastline meets for a beach baptism and fun in the sun.  Often, we will provide paddleboards, volleyball, worship music...and of course baptism.
Follow us on facebook to stay informed.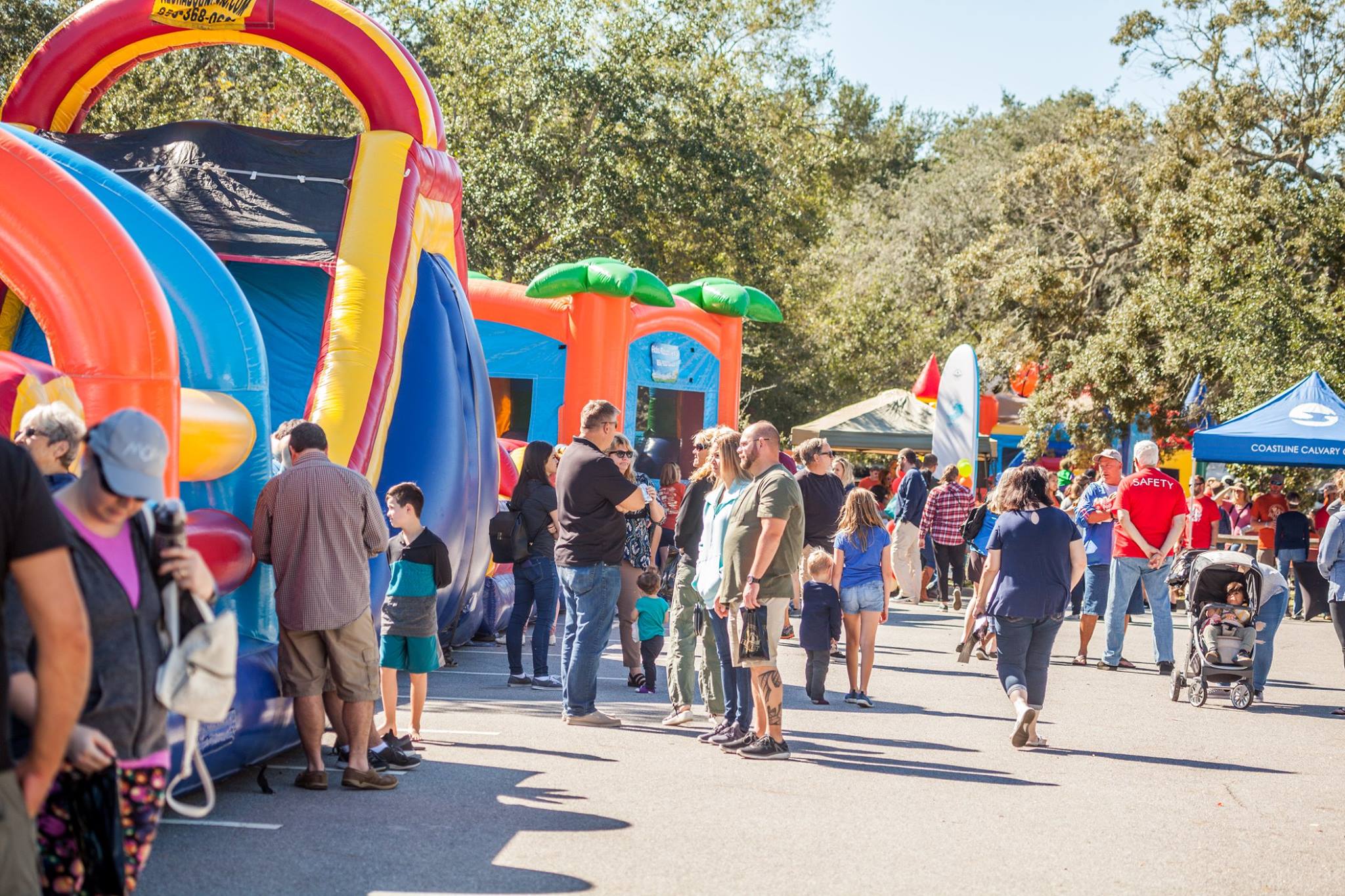 FALLFEST
Every October, Coastline transforms Shoreline park into a festival for the whole family.  This is a chance for us to share the love of Christ with our community.  
Filled with games, bounce houses, face painting, free candy, and carnival food available...this event is a free event for children of all ages.  There are also games and competitions for older kids too!  You won't want to miss this event--better yet--we have plenty of opportunities for you to help out.
We always need volunteers and corporate sponsorships.  
Follow us on facebook to stay informed.


WOMEN'S CHRISTMAS TEA
Every other year, Coastline hosts a Women's Christmas Tea.  This event has become a global phenomenon, and has been recreated over and over in churches all over the globe.
Women are able to decorate and host a table for female friends and family.  In addition to tea, these women enjoy an elegant meal, Christmas music, a special message from a guest speaker...and dessert!
The men of the church serve the food and drinks, so all our ladies can relax and experience the love of God in every aspect of this evening. 
Follow us on facebook to stay informed.

CHRISTMAS EVE SERVICE
What is Christmas Eve without family?  And, Coastline Calvary Chapel just loves to share this holiday evening together -- while sharing the love of Jesus with our community. 
This event is held at Pensacola's Saenger Theater.  It is a beautiful evening that is family tradition to many in our city.  Special music, Christmas carols, children's choir, adult choir and a powerful message of Jesus' birth are just part of the celebration. 
It takes a "all hands on deck" approach to pull off a special evening like this.  So get ready to be involved and experience Christmas like you never have before!
Follow us on facebook to stay informed.

PRISON MINISTRY & MORE
36 I was naked and you clothed me, I was sick and you visited me, I was in prison and you came to me.' 37 Then the righteous will answer him, saying, 'Lord, when did we see you hungry and feed you, or thirsty and give you drink? 38 And when did we see you a stranger and welcome you, or naked and clothe you? 39 And when did we see you sick or in prison and visit you?' 40 And the King will answer them, 'Truly, I say to you, as you did it to one of the least of these my brothers,[a] you did it to me.'  - MATTHEW 25
There are many rewarding opportunities for you to show God's love to someone.   If you have an idea of how you would like to serve at Coastline, just reach out to Pastor Joe.  If we don't have something already in place, maybe you can help us get it started!
COMMUNITY NEEDS
Coastline Calvary Chapel is part of a huge network of churches.  Through these connections, we can get the necessary supplies, money and workers to the people in need.  When you give through Coastline, you know the money is getting to the right people who need it.  
COASTLINE CHARITY PROGRAM
We want to help others, but we also want to protect people from scammers.  If someone approaches you with a need, feel free to direct them to the Coastline office.  We have some required forms they will need to fill out in order to direct them to resources for free food and shelter. 
FOOD DRIVE
Every third Sunday of the month, we collect non-perishable foods and deliver them to the local food pantry.  Follow us on facebook to stay informed.